Services & Information
Business Hours -
By Appointment only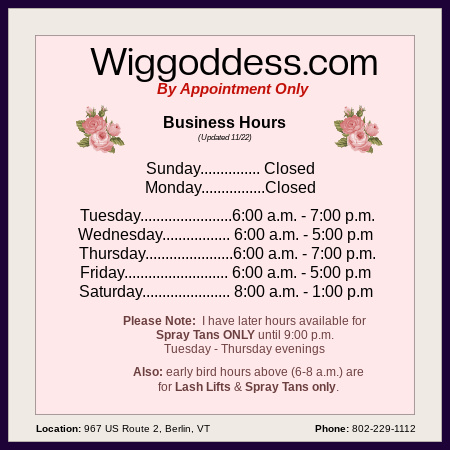 Services Available - By Appointment only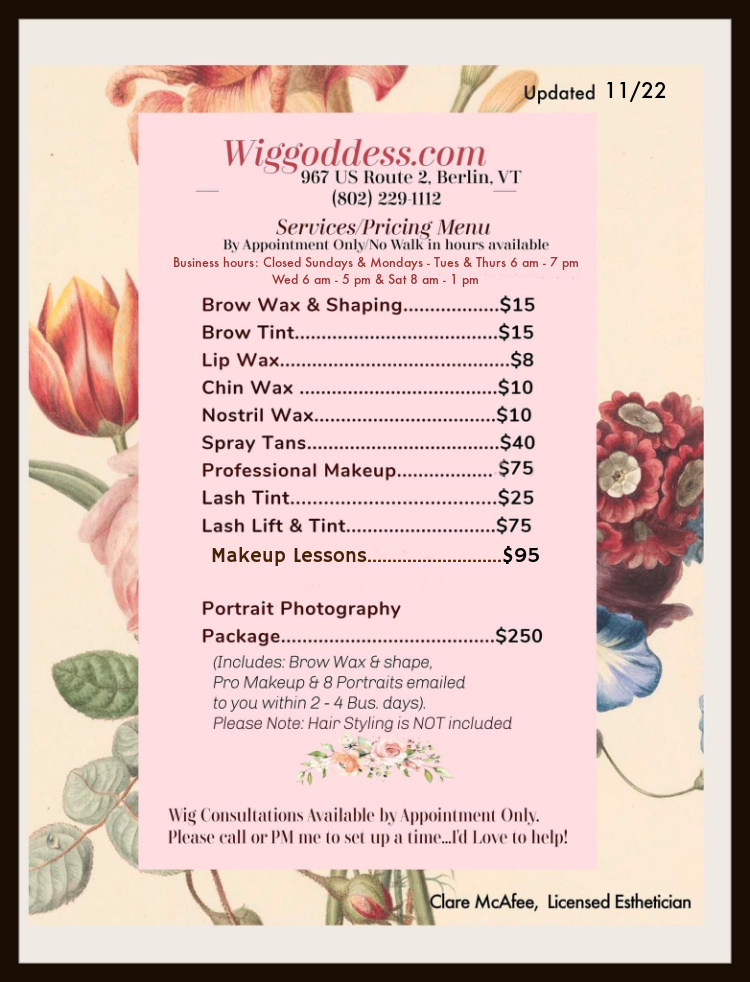 Making an appointment is SO simple. Give me a call... (802) 229-1112 or email... wiggoddessclare@gmail.com Please have dates in mind as I will take a Non refundable 50% of service deposit to put you on my schedule. Please note...only serious inquiries...if you cancel..or are a No show....You lose the deposit.

WHAT TO EXPECT
When you first arrive, (Please arrive shaved and ready for makeup)....If you don't arrive dressed you can get dressed before we start...I'll get your makeup and hair Fabulous.... We can discuss the look you want to go for whether it be the lovely girl next door, showgirl, or TOTALLY glamorous. ....Please bring your own clothing (90 Minute service - Price menu above)
Portrait Sessions
I have breastforms and wigs for use for pictures....that are included in the price. Please pick up a set of Preglued nails to use.... I own a full service Wig shop...so if you love the wig you are wearing...It is available for purchase. Once you are dressed and looking fabulous...I'll put your nails on while you are staring at yourself in the mirror (This will happen alot).......we then photograph this FAB new you! You will receive your High Resolution portraits in an email within 1-2 weeks (2 Hour Service - Price menu above)

Absolute Privacy
My sweet friends...please know...that I practice at the utmost level of confidentiality. We will only use your female name and last initial in our records. We even bill your credit card discreetly (Your statement will say "CM Products") This is a private place....only advertised through word of mouth...or TG friendly papers and magazines. I hope this helps.

802-229-1112
Directions to TG North

Directions:........Once you hit Vermont get on I89 towards Montpelier. Get off on exit 8. This will put you right on route 2 East. At about 3 miles...you will see an AGWAY store on the right...mark your odometer..I'm a half mile up on the right...(Large Green Building) make a right and drive around the back ...Our entrance is there..You will see our banner. See you here galz!
I can't wait to hear from you. Please give me a call 802-229-1112 or email me ......and we can start the fun!